PELLENC ST 

SORTING TEST CENTER
Pellenc ST America inaugurates its new Test Centre
To round off an exceptional year, Pellenc ST inaugurates its new Test Centre in the United States and continues to assert its international position.
On 10 November 2022, Pellenc ST opened a new Test Centre in the USA (Pineville, North Carolina). In the coming months the company will also be moving and upgrading its Japanese Test Centre and opening two new Test Centres in Australia and the UK.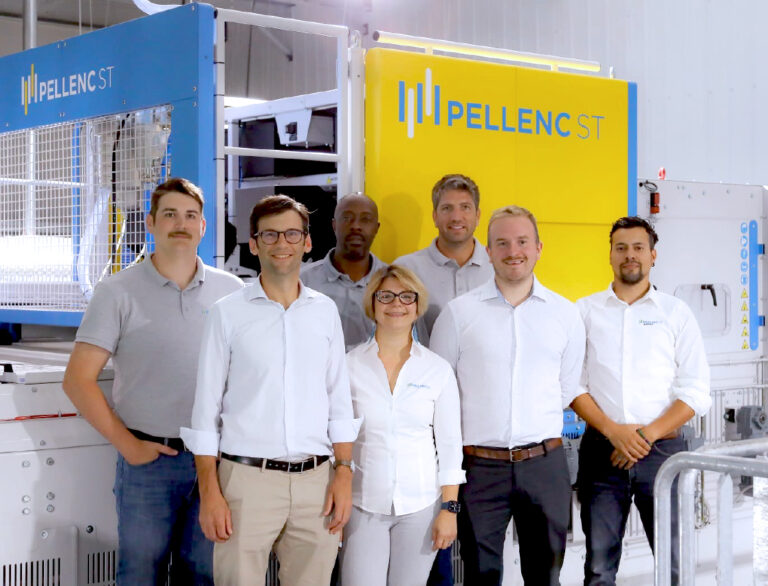 From left to right
Daniel Poorman, Technician, Jean Henin, President, Eric Manigo, Technician, Luciana Quiroga, Back-Office Manager, Bill Lindquist, Sales Manager Americas, Harry White, US Branch Manager, and Ronald Castillo, Technical Manager.
Confirming its position in the USA
Pellenc ST has had a presence in North America since 2010. The first Test Centre was established in 2017 in the city of Charlotte, North Carolina. Having become too small for purpose, it was decided to build a new space in order to meet the growing demands of industrial testing.
With this new Test Centre, now located in Pineville, Pellenc ST provides its customers with a 560m² industrial demonstrator site with the latest intelligent sorting equipment. Two Pellenc ST sorting machines are available to study the best sorting strategies and ensure the quality of the sorted flows. A machine from its partner Bühler was added to the process in order to carry out tests on plastic flakes. 
"This building is also made available to packaging producers to validate the "sortability" of materials in the real-life conditions of a sorting centre. We support manufacturers in the development of test protocols while providing diagnostics and recommendations for improvement," comments Harry White, head of Pellenc ST's American subsidiary.
An inauguration in the presence of American clients and partners
The inauguration took place on Thursday 10 November 2022 in the company of Pellenc ST's American clients, partners and employees. Some members of the French teams also made the trip for the occasion. The program included a plenary presentation, thematic workshops, a tour of the new premises and live demonstrations before ending the day with an evening of informal conversation and conviviality.

Deploying its international presence to provide localised service
With 2,000 machines installed in more than 40 countries, Pellenc ST is the leader in France and one of the key players on the international market. In order to strengthen its presence, the ETI is pursuing its development throughout the world in order to provide closely adapted support to players in the circular economy. "The opening of the US Test Centre will be quickly followed by the relocation and upgrading of our Japanese Test Centre and the opening of new Test Centres in Australia and the UK by 2024. The aim is to increase proximity to our clients and enable them to benefit from our latest technologies directly on their territory," concludes Jean Henin, President of Pellenc ST.