Döngüsel Ekonomiye hizmet eden Teknolojiler ve İnsanlar

In case of emergency, please contact our switchboard at +33 490 094 790 / [email protected]
Our remote assistance service remains available 24-7 at +33 490 094 794 / [email protected]
All our teams wish you happy holidays.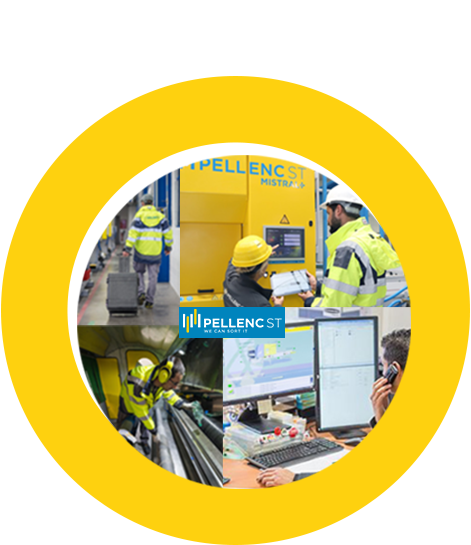 As a manufacturer of sorting machines for the waste and recycling industry, Pellenc ST is among the companies deemed indispensable for the continuity of essential services. In line with that responsibility, throughout the period of the lockdown caused by COVID-19, our teams continued to provide their services in France and all the territories in which we operate, in strict compliance with local regulations.
Our ability to serve our clients around the world proved our resilience and the timeliness of the digital transformation we had already undertaken before the crisis.
As we emerge from the lockdown in France, we have revised the entire organisation of our workforce and logistics, relying on what have always been our strengths: agility, teamwork, and closeness to our clients and suppliers. Employees are gradually returning to the Pertuis site.
Although Pellenc ST's shift towards digitalisation was accelerated by the crisis, as it brought about new ways of working, collaborating, and managing teams, we do not forget that the human factor and social ties remain at the heart of our corporate culture.
Jean Henin, Chairman of Pellenc ST.
Pellenc ST, le
geri dönüş sanayi

için akıllı ve bağlı

ayıklama
Pellenc ST, atık işleme ve geri dönüşüm sanayisi için optik ayırma ekipmanı üreten bir Fransız üreticisidir. 40'tan fazla ülkede faaliyet gösteren 1.600 makine filosu ile şirket pazar liderlerinden biridir.
Ayrılan nesneler, ambalaj, sanayi, elektronik, otomotiv ve inşaat atık pazarlarından gelmektedir. Bu malzemeleri ayırmak için kullanılan teknolojiler kızılötesine yakın spektrometri ve vizyon, endüksiyon ve X-ışınlarıdır.