A team of experts

at your service
A shared objective:
boosting our customers performance
With more than 2000 machines in 52 countries, Pellenc ST has a network of technicians specially dedicated to customer satisfaction. Our sales and customer service teams provide their expertise and assistance to all our partners to keep their sorting lines operating optimally. Our after-sales service is available 24/7 and travels around the world to ensure a high level of efficiency and availability.
Service Connect: the new all-in-one, connected solution
Service Connect guarantees our customers the highest level of service, as well as the provision of personalised reports and analysed information during maintenance visits. New for 2021, Pellenc ST systematically includes one year of 24/7 on-site and remote services with the purchase of a Mistral+ Connect.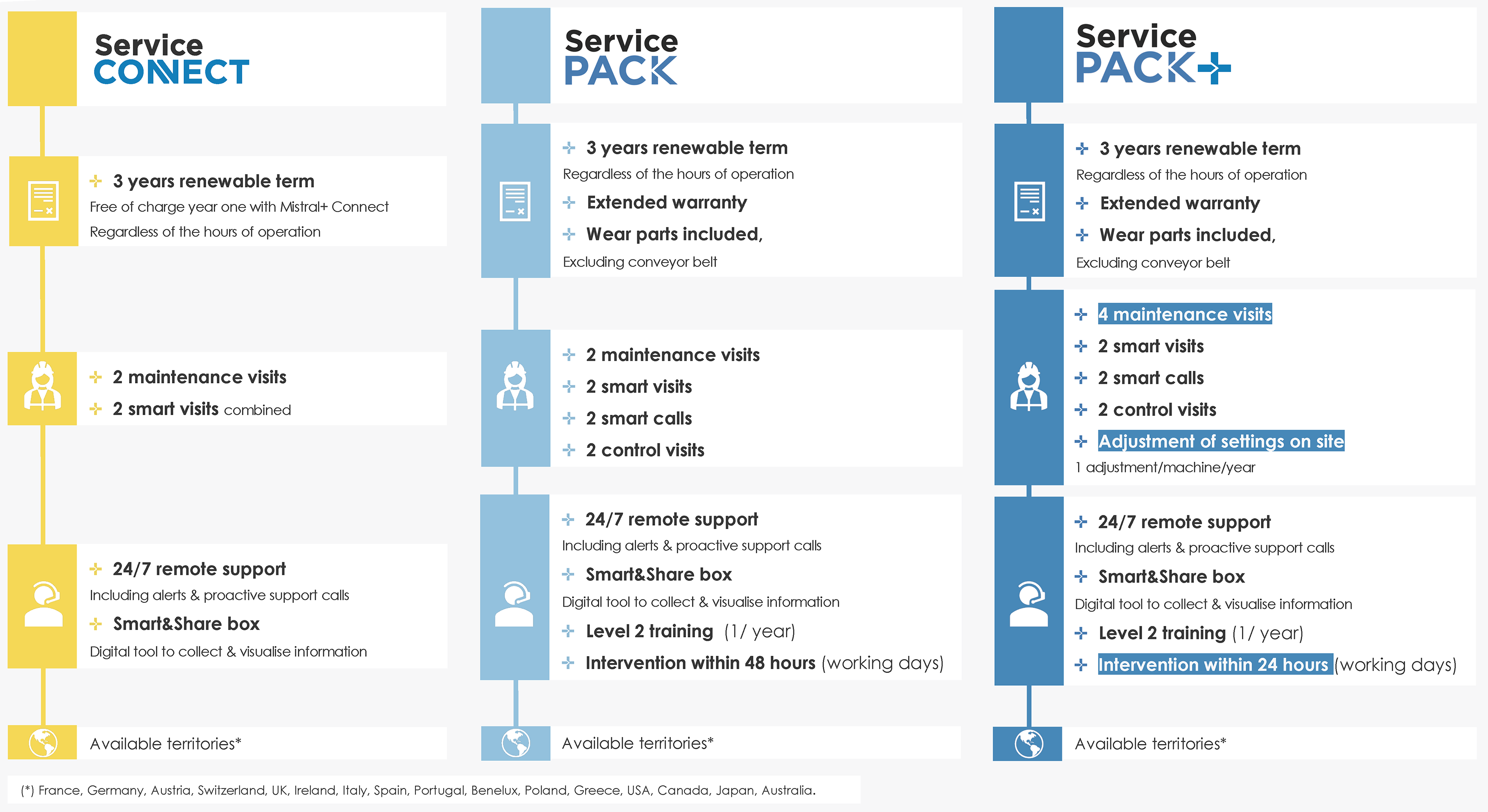 24/7 tele-assistance, 7j/7
Provided by our local experts
90% of calls are resolved remotely
New Intelligent alert monitoring
New Preventive calls
Local support
A team of 5 experts deployed throughout UK
High reactivity
Parts available quickly
Service PACK: the turnkey and connected solution to maximise operating performance and keep costs under control
Pellenc ST has reinvented the service approach with the launch of an all-in-one solution: the Service PACK. This solution is designed for operators of sorting or recycling centres in search of a straightforward and comprehensive service to give their performance a boost. The Service PACK combines traditional 24/7 services, unlimited supply of replacement and wear parts, and advice based on analysis of the data collected by the digital system.
Focus on
the Smart & Share
Smart & Share is an intelligent and collaborative platform for sorting centres and recycling facilities.
The application is included in all "Advanced" and "Smart" level service contracts to reinforce the support that Pellenc ST provides to operators.
The data relating to the maintenance and performance of your machines are collected, summarised, and analysed by our teams to produce a diagnostic and to suggest targeted actions as part of an overall plan to boost your performance.
THE SMART BENEFITS
Customised statistical reports
Smart alerts
Various levels of access available: site, region, country
Secure data that you can access in real time and remotely
Leasing is a simple and easy financing solution offered by Pellenc ST. Under the name Pellenc ST Leasing, it enables our customers to equip themselves with the latest sorting solutions in line with their operational needs.
This solution is offered for a period of 5 years with low initial costs and includes the Service Pack for a turnkey solution.
Contact the sales manager in your region to study your Mistral+ Leasing project.